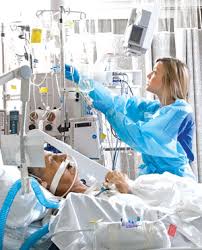 Critical care nurses are also known as ICU nurses. Critical care nursing is the field of nursing with a focus on the utmost care of the critically ill or unstable patients following extensive injury, surgery or life threatening diseases and critically ill patients who require mechanical ventilation by way of endotracheal intubation or titratable vasoactive intravenous medications.
Critical care nurses in the U.S. are trained in advanced cardiac life support (ACLS), and many earn certification in acute and critical care nursing (CCRN) through the American Association of Critical–Care Nurses
Critical care nurses can be found working in a wide variety of environments and specialties, such as general intensive care units, medical intensive care units, surgical intensive care units, trauma intensive care units, coronary care units, cardio thoracic intensive care units, burns unit, pediatrics and some trauma center emergency departments
The training for the use of the equipment such as hemodynamic and cardiac monitoring systems, mechanical ventilator therapy, intra-aortic balloon pumps (IABP), ventricular assist devices (LVAD and RVAD), continuous renal replacement equipment (CRRT/CVVHDF), extracorporeal membrane oxygenation circuits (ECMO) is provided through manufacturers and also with experienced operators.
Annual continuing education is required by most states in the U.S. and by many employers to ensure that all skills are kept up to date. Many intensive care unit management teams will send their nurses to conferences to ensure that the staff is kept up to the current state of this rapidly changing technology.
Advocacy In Critical Nursing Care
Dimensions And Limitations In Critical Care Nursing
Nursing care And physiotherapy
Adult And Gerontological Critical Care
Nursing Management During Brain Death, Organ Donation And Transplantation
Acute Renal Failure And Heamofiltration
Acute Respiratory Failure And Ventillation
Liver Failure And Encephalopathy
Emergency Care across The Age Spectrum
Specialties In Emergency Care
Quality and Safety In Emergency Care